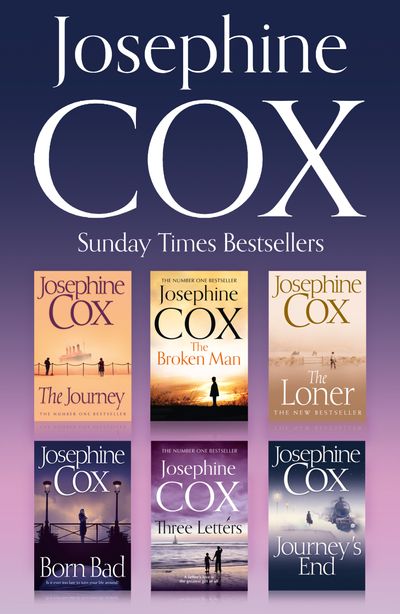 Josephine Cox Sunday Times Bestsellers Collection
By Josephine Cox
Josephine Cox's classic Sunday Times best-selling novels get straight to the heart and heartbreak of family drama.
The Journey
Three strangers are thrown together by chance. It's an encounter which is destined to change all of their lives for ever.
When Ben Morris comes to the aid of Lucy Baker and her daughter Mary, he is intrigued by the story behind their frequent visits to the local graveyard. Later, invited into their home, an old Edwardian place suffused with secrets of the past, Ben hears Lucy's remarkable tale – one she must tell before it's too late.
Journey's End
As Barney Davidson watched the liner sail away with his beloved family on board, bound for America, he stood a devastated and broken man. His dream was over, but theirs was just beginning.
Now many years later Barney is gone. Only Lucy Baker, now old and in ill health herself, knows the truth about what happened.
The Loner
Young Davie Adams is all alone. Devastated, he flees his hometown of Blackburn to escape the memories of the worst night of his life. With little more than the shirt on his back he sets off on a lonely, friendless road, determined to find his father.
Born Bad
Eighteen years ago when he was a boy, Harry made a decision that drove him from the place he knew and loved.
Now for the first time in all those years, he is heading back.
Three Letters
Eight-year-old Casey's father is gentle and hard-working and, though Tom Denton has long suspected his wife of having sordid affairs, he has chosen to turn a blind eye to keep the peace. But then, out of the blue, Tom's world is cruelly shattered when he receives two bits of devastating news.
The Broken Man
It's 1954 and Adam Carter is twelve years old, an only child with no friends nor any self confidence. One particular afternoon, when Adam is his last drop of the day, the school bus driver, Phil, decides to accompany him along the darkening wood land to his house, never suspecting that as they chat innocently, in the house at the end of the track a terrible tragedy is unfolding which will change Adam's life forever.
Praise for Josephine Cox: -
'Thanks to her near faultless writing, sympathies will lurch from one character to another, and as events reach their dramatic conclusion readers will find it impossible to tear themselves away.' News of the World -
'Another hit for Josephine Cox' Sunday Express -
'Cox's talent as storyteller never lets you escape the spell' Daily Mail -