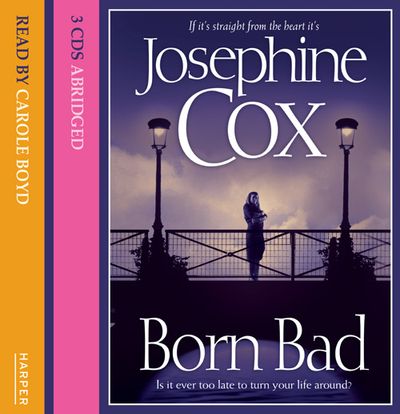 Born Bad: Abridged edition
By Josephine Cox, Abridged by Kati Nicholl, Read by Carole Boyd
THE POWERFUL NEW BESTSELLER FROM ONE OF THE NATION'S FAVOURITE STORYTELLERS AVAILABLE ON AUDIO.
Harry always knew he would go back one day …
Eighteen years ago when he was a boy, he had made a decision that drove him from the pace he knew and loved.
In those early years, between boy and man, he had carved out a life for himself, and somehow, he had found a semblance of peace.Yet through every waking moment during those long aching years, he was haunted by what happened when he was a boy. He had never forgotten that warm, carefree girl with the laughing eyes. Then he recalled the sadness, the bad timings and even now, he could not forgive himself. They say you never forget your first love and it's true. You could have a dozen loving relationships and even settle down with someone you would die for, but your first love is always there, safe and protected in your heart and soul.
Now for the first time in all those years, Harry is heading back. Excited, afraid, and full of doubts, he knows he has no choice. Rightly or wrongly, he needs to know the outcome of what happened all those years ago.
And most importantly, he needs to find forgiveness.
Praise for Josephine Cox: -
"•'Cox's talent as storyteller never lets you escape the spell" - Daily Mail
"• 'Irresistible storytelling" - Books Magazine
"• 'Driven and passionate" - Sunday Times