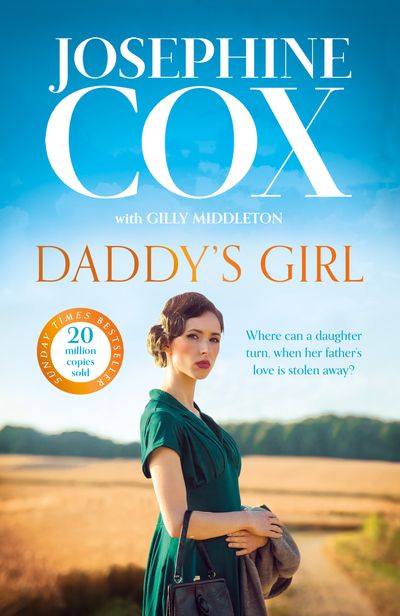 Daddy's Girl
By Josephine Cox
The brand new epic family drama from the nation's favourite storyteller.
Heart-broken Sarah Quinn is left to care for her father and siblings when their beloved mother dies. Putting her own dreams aside to keep the family together, she's watchful of her youngest sister, Janette, fast on the way to becoming a tearaway.
Her father Fred, often in the pub rather than striving to pay the bills, delivers a shock. He's taken up with Mavis Swindel, the landlady of a shabby boarding house and swiftly marries her, moving them all into her lodgings.
Forced to do most of the dirty and backbreaking housework, and often at the sharp end of Mavis's spite, Sarah becomes convinced that her father's new wife has something to hide. But as her quest becomes an obsession, does Sarah risk destroying everything that matters to her in the search for the truth?
Readers love Josephine Cox: -
"'Loved the story and the characters" - Netgalley reviewer, 5 stars ⭐⭐⭐⭐⭐
"'It's so well written and the story line was addictive." - Netgalley reviewer, 5 stars ⭐⭐⭐⭐⭐
"'What a brilliant book - so many rollercoasters, emotional, funny and sad" - Netgalley reviewer, 5 stars ⭐⭐⭐⭐⭐
"'A definite read again book on my shelf" - Netgalley reviewer, 5 stars ⭐⭐⭐⭐⭐
Praise for Josephine Cox: -
'Thanks to her near faultless writing … readers will find it impossible to tear themselves away.' News of the World -
'Another hit for Josephine Cox' Sunday Express -
'Cox's talent as storyteller never lets you escape the spell' Daily Mail -
'Another masterpiece' Best -
'Another beautifully spun family epic' Scottish Daily Echo -
'A born storyteller' Bedfordshire Times -
'A surefire winner' Woman's Weekly -