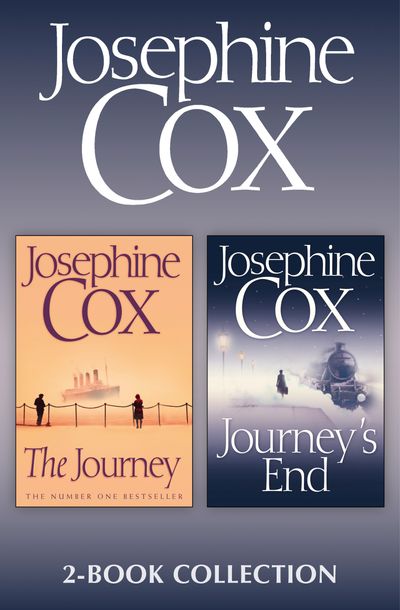 The Journey, Journey's End: Josephine Cox 2-Book Collection
By Josephine Cox
Two stunning novels telling the gripping story of three strangers thrown together by chance.
THE JOURNEY
Three strangers are thrown together by chance. It's an encounter which is destined to change all of their lives for ever.
When Ben Morris comes to the aid of Lucy Baker and her daughter Mary, he is intrigued by the story behind their frequent visits to the local graveyard. Later, invited into their home, an old Edwardian place suffused with secrets of the past, Ben hears Lucy's remarkable tale – one she must tell before it's too late.
The story of Barney Davidson, his family and the part Lucy played in his extraordinary life, is one of a deep, abiding love and an incredible sacrifice.
JOURNEY'S END
Like a ghost from the past, she walked along the platform towards them…
It has been over twenty years since Vicky Maitland set foot on English soil. Twenty years since she left Liverpool with her three children, bound for a new life in America, leaving her beloved husband Barney behind.
But this long journey home is the hardest of all. She is here in search of the truth, afraid of what she may find. Why did Barney turn against his family so suddenly, so cruelly? Only her old friend Lucy Baker knows what happened. And Lucy promised Barney she would never tell his secret. Is it time she broke her silence and explained the events of so long ago?
Praise for Josephine Cox: -
'Thanks to her near faultless writing, sympathies will lurch from one character to another, and as events reach their dramatic conclusion readers will find it impossible to tear themselves away.' News of the World -
'Another hit for Josephine Cox' Sunday Express -
'Cox's talent as storyteller never lets you escape the spell' Daily Mail -